February 18, 5:00 pm EST
We had a big earnings report from Walmart today.
Last summer we talked about the huge divergence in the performance of Amazon (the world's biggest company by market cap) and Walmart (the world's biggest company by revenue).
Let's take another look …
As we discussed, the market was pricing Amazon like a runaway monopoly — killer of all industries, especially retail.  And the perception has been that Walmart was destined to become another rise and fall story of a dominant American retailer.
But there was a clear and new catalyst that entered. Trump had made it very clear that he was, not only looking to balance the playing fieldglobally, but also domestically.  And that meant, the tech giants were due for some regulatory headwinds.  Amazon has been in the crosshairs, and still is.
As such, as I said last summer, this chart below was becoming the proxy for the domestic "rebalancing" — where the foot is being lifted from the jugular of the old economy survivors.
With today's big Q4 earnings report from Walmart, we now have this chart.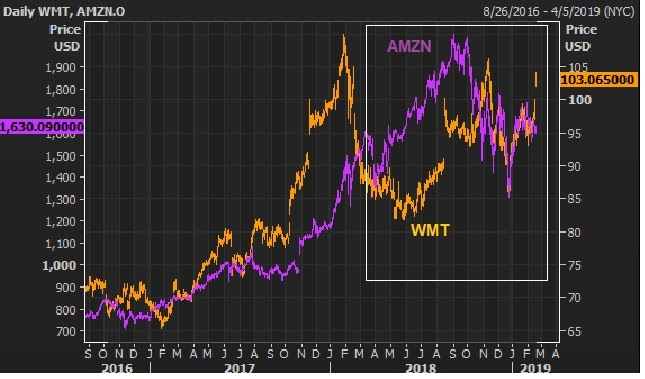 As you can see, the jaws have closed, albeit mostly driven by the resurgence of Walmart.  This spread trade was good for about 25% since June.  Amazon was 4.3 times the size of Walmart.  Now its about 2.5 times as big.
And this convergence should continue to have legs, not just because of the pressure from Washington on Amazon, but also because of the competitive moves made by Walmart, that may be finally garnering some respect on Wall Street.
Walmart has been aggressively investing in online. They bought Jet.com in 2016, an American online retailer.  That same year they took a large stake in the number two online retailer in China, JD.com.  Walmart now owns 12% of JD.
JD.com already has a big share of ecommerce in China.  They are number two to Alibaba, but gaining ground due to some clear competitive advantages.  JD owns and controls its logistics infrastructure, and does quality control from the supplier to delivery.  And unlike Alibaba, JD sources product to its warehouses to fight the counterfeit goods risk – a big problem in China. JD has 500+ warehouses around the country, and they now source product and service customers from one of the 433 Walmart stores in China.
So Walmart is positioned well to take advantage of the growth in the middle class in China.  Amazon has yet to find its way in China.  It has about 1% market share.   Add to this, Google came in last year with a $550 million investment to help position JD to challenge Alibaba and Amazon on a global scale.
Join me 
here
 to get my curated portfolio of 20 stocks that I think can do multiples of what broader stocks do, coming out of this market correction environment.