Closing The Jaws On Old Economy Versus New Economy
Stocks continue to swing around today.  But I think we may have a bottom coming in. 
Remember, we looked at some key charts on Friday.  Among them, we had this chart of the Dow, where a touch of this big trendline from the 2016 lows would give us a 10% correction on the nose.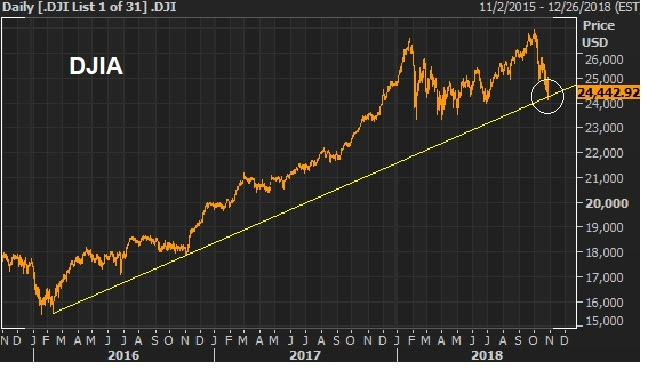 As you can see in the updated chart, we hit that level today, traded below it, but bounced back aggressively into the close.
So we now have an official correction in the Dow (down 10%) and we have an official bear market in the FANG stocks (down more than 20%).  These labels have significance because it the plays into market psychology and price behavior.
With this in mind, if you are a regular reader of my daily notes, you'll know we've talked about the big disconnect between the performance of the tech giants, relative to the Dow for much of the year. The FANG stocks were UP as much as 50% at one point this year (equal weighted).  Meanwhile, the Dow has dramatically lagged all along the path of the post-correction recovery of earlier this year.
This was a market pricing the tech giants like monopolies that would destroy all industries, despite the clear threats that were coming from Trump and from Europe (i.e. promising to ramp up regulation on those that have gained advantages from the lack of regulation).
The great proxy for this trade, as we've been discussing for the better part of the past six months, has been Amazon versus Walmart.
Remember, we looked at this chart several times earlier this year …
This chart clearly represents the regulatory favor that has been given to the tech giants.  The regulatory favor has not only disrupted industries, it has nearly destroyed them, and created monopolies in the process.
But with regulation coming, I've expected the "jaws to close" on this chart, and for money to start moving back into value stocks and back into the industries that have been nearly destroyed by the tech giants.
We now have this … the jaws have closed. 
This violent repricing of the tech giants, and now bear market, is finally signaling the outlook for a more level playing field for businesses, more broad-based economic activity, and a more broad-based bull market for stocks.
If you need help with your shopping list of stocks to buy on this dip, join me in my Billionaire's Portfolio. We follow the world's bests billionaire investors into their favorite stocks.  Click here to learn more.