Gold Is The 'Fear Of The Unknown' Trade
June 13,  5:00 pm EST
Yesterday we talked about the plunge in oil prices and the importance of holding above the big $50 level.  And oil gets a big bounce back today on the Iranian attack of two oil tankers in the Middle East.
Iran has made threats, in the past, to choke off global oil supply in the narrow strait (Hormuz) that about 30% of the world's crude oil passes through.  Today's attack follows an attack on Saudi tankers last month. So Iran is posturing to deliver on threats of disrupting global oil supply.
This all stems, of course, from Trump's efforts to bring Iranian oil exports to zero (sanctions that were upgraded back in April) — to get them back to the negotiating table on weapons of mass destruction.
Without getting into speculation of where this will end, let's just take a look at gold, which has gotten a renewed "fear of the unknown" bid this month.  A conflict with Iran would fall into that category.  In an interview yesterday, the great macro trader Paul Tudor Jones called gold his favorite trade over the next 12-24 months (for a number of reasons).   He said if it breaks $1,400, it will quickly push to $1,700.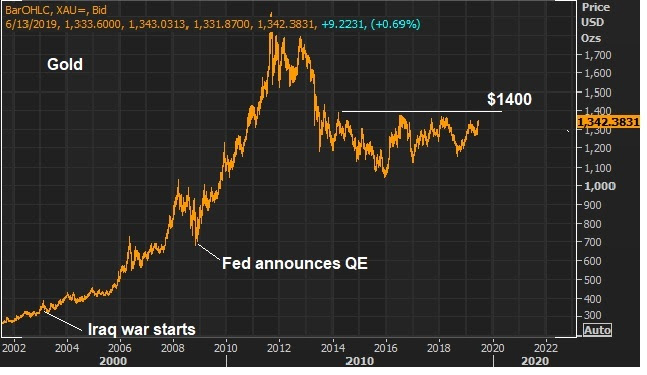 If you haven't signed up for my Billionaire's Portfolio, don't delay … we've just had another big exit in our portfolio, and we've replaced it with the favorite stock of the most revered investor in corporate America — it's a stock with double potential.
Join now and get your risk free access by signing up here.