Fed 'Near The End' On Rate Normalization
November 28, 5:00 pm EST
Yesterday we talked about the perfect setup, coming into today's scheduled speech by the Fed Chair, for Powell to signal a pause in the Fed's rate normalization program.
The sharp fall in oil prices in the past two months has taken some of the edge off of inflation concerns.  And there has already been evidence that the speed at which rates have moved has caused a slowdown in housing. So this was the perfect opportunity for the Fed Chair to give a clear signal that they are near the end on rate normalization.
Indeed, that's what we got.  And that did indeed provide a positive catalyst for stocks, and I suspect it will be a positive catalyst for what has been some deterioration of confidence in the economic outlook.
That all aligns nicely with the technical picture we've been watching in stocks.
Here's another look at the bounce off of this big trendline for stocks, that continues to grow in scale.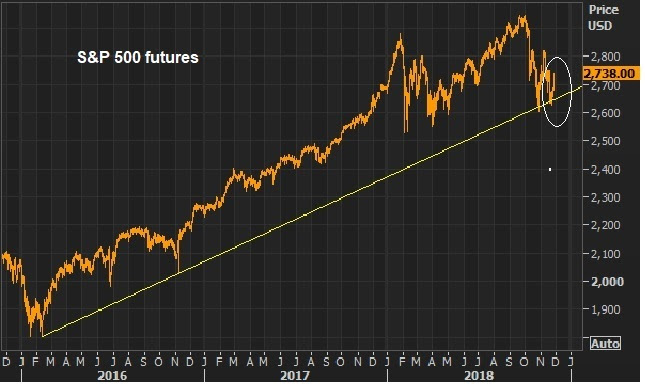 So this adjustment in the market's perception on the interest rate outlook is a catalyst for what could be a very aggressive rebound in stocks into the year end.  More fuel would be a positive outcome from the Trump/Xi meetings on U.S./China trade, which will come toward the end of the week.
With the above in mind, among the biggest rebounds in global markets should be emerging markets.
As of last month, the MSCI Emerging Markets Index was down 27% from the January highs.
What stocks do you buy?  Join me 
here
 to get my curated portfolio of 20 stocks that I think can do multiples of what broader stocks do, coming out of this market correction environment.