Trump's Handling Of Saudi Arabia Is A Big Deal For Markets
November 20, 5:00 pm EST
Stocks hit this big trendline today and bounced.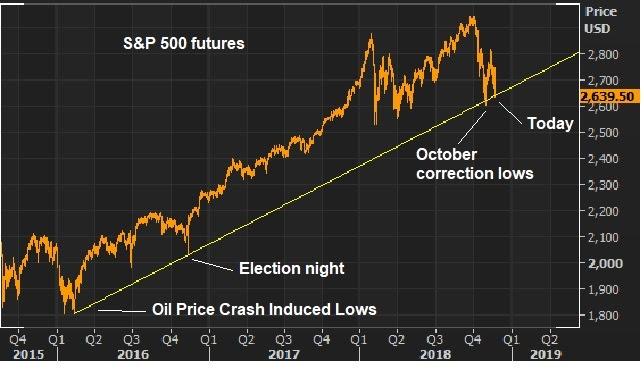 This line comes in from the oil price crash-induced lows of 2016.  And, as you can see, we have the bottom of the fallout in the futures market on election night, and the lows of last month. This area also puts the S&P 500 right at a 10% decline from the October highs.
Is it the bottom of this sharp two-day slide?  Maybe.
Let's talk about why stocks have gotten hit, again, this week.
Last week, it looked like the fog had lifted.  We were looking for the Fed to signal a pause on rates.  We got it, to a degree, with the message that the 'normalization phase' for rates was in the "final days."  We had the U.S. Treasury name those Saudis to be sanctioned in the Khashoggi murder.  The Crown Prince wasn't one of them – which means the Kingdom was not being sanctioned.  And we had news that progress was being made on U.S. China trade.  That was all good news for stocks.
But the latter two of these hurdles for stocks was reversed over the weekend.
We had some confrontational talk from Pence and Xi.  And we had news that the CIA investigation would implicate the Crown Prince in the murder of Khashoggi.
Everyone is well aware of the U.S./China trade implications.  As for the Saudi, implications, it's more complicated.  First, Trump has been trying to make the case for Saudi Arabia's critical alliance in the fight to defeat ISIS and check of Iran.  Maybe more importantly, pushing Saudi Arabia toward an alignment with China and Russia in the long-game would be a grave danger for the U.S.
Taking action against the Crown Prince would jeopardize both.
So, as I suggested earlier in the month, Trump seems to be leveraging the Saudi crisis to get oil prices lower.  He said as much today. And to this point, it appears that he's settled on the sanctions that have already been levied.
If that holds, that's good for stocks.  The risk, given the amount of wealth Saudi Arabia has in U.S. capital markets, is any change in that stance that might mean broad sanctions on the Kingdom of Saudi Arabia.  That's where Saudi liquidations, in effort to secure assets, is dangerous for the stock market.
Join me 
here
 to get all of my in-depth analysis on the big picture, and to get access to my carefully curated list of "stocks to buy" now.