Bond Market Is Still Short Of Pricing In Fed's 200 BPS Of Hikes
We ended the week with the jobs report today.  The headline payroll number itself is less important. It's been plenty good for the past seven years, and has averaged over 200,000 new jobs over the past twelve months.
Remember, the missing piece in this report, that has NOT confirmed a hot job market, has been wage growth.  Throughout much of the post-Great Recession environment, despite the low headline unemployment number that central banks were able to manufacture, workers had little leverage in the job market to maximize potential, much less command higher wages.  That means mid-level managers were happy to have a job and keep it, and college graduates were (have been) relegated to a career as a barista.  That's not a sign of a hot economy.
That said, wage growth has been on the move, but slowly.  Today's report of the September average weekly hourly wages was up 2.8% (compared to last year this time).  Here's what the history of that number looks like: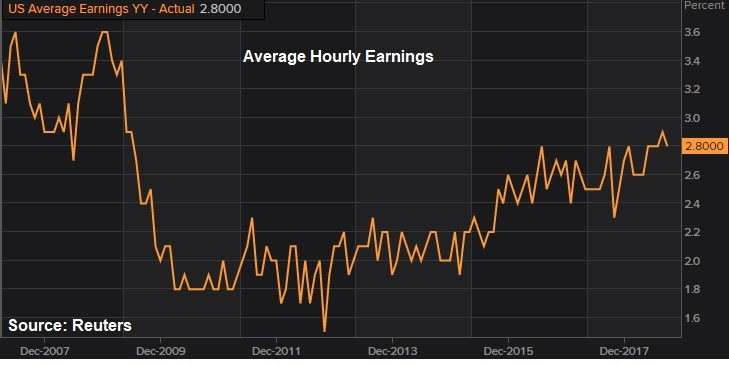 So wages are on the rise, but not fast.  And that explains why inflation is on the rise, but not fast.
That should comfort those who think the interest rate market is about to run away.  Remember, the Fed hiked by another 25 basis points last month, and contrary to what we've seen throughout the Fed's three-year tightening cycle, the bond markets are finally beginning to price some of it in.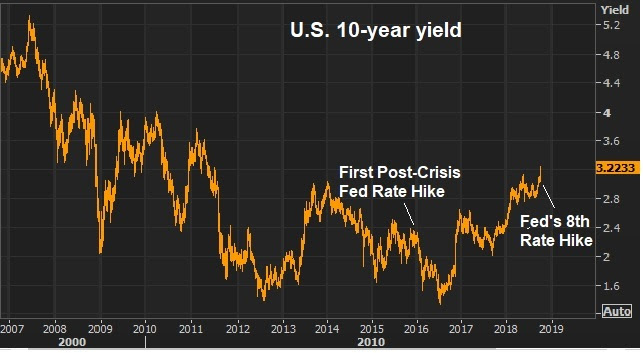 For 
perspective
, the Fed went by another 25 basis points in September, and the 10-year yield has since risen by 20 basis points.
As you can see in the chart, we've had 200 basis points of Fed tightening since December of 2015.  But the 10-year yield, since the Fed began "normalizing" policy three years ago, has risen less than half of that (<100 basis).  It's far from a runaway train in the market-determined interest rate market.
As I said yesterday, the move in rates is a growth story, not a crisis (or end of growth) story.  With the optimism of economic momentum supported by fiscal stimulus and structural reform, the interest rate market is finally pricing OUT the risks of slow growth forever and post-Great Recession crises.