Trillion-Dollar Amazon May Have Signaled The Top In Euphoria
September 17, 5:00 pm EST
The market is typically pretty good at pricing in what is known.  And it has been pretty clear that Trump has seen trade imbalances as a key piece of his structural reform plan.  And the strategy on correcting those imbalances has been to fight trade barriers with trade barriers.
While it has created plenty of fodder for political and economic debates, the markets seem to like it.
As we've discussed, any movement on trade, from a U.S. perspective, is success.  He has said as much with this statement on China:

Given the position of U.S. stocks (at or near record highs) relative to global trading partner stock markets (largely, negative on the year), the market seems to be fairly comfortably betting that movement will occur, given the position of strength from which Trump is negotiating (i.e. the biggest and most powerful economy behind him).
Now, this is the effort to level the playing field internationally. We've also talked about the 'domestic' leveling of the playing field on the Trump agenda.  And that has everything to do with the tech giants.  And it has most to do with Amazon.
With that, we've talked about the case for breaking up Amazon.  As I've said
"At 161 times earnings, the market seems to be betting on the Amazon monopoly being left to corner all of the world's industries.  That's a bad bet. Much like China undercut the competition on price and cornered the world's export market, Amazon has undercut the retail industry on price, and cornered the world's retail business.  That tipping point (on retail) has well passed.  And as sales growth accelerates for Amazon, so does the speed at which competition is being destroyed.  But Amazon is now moving aggressively into almost every industry.  This company has to be/will be broken up."
Amazon was a big loser on the day today. Why?  Break-up speculation.
A Citibank internet analyst today called for the split of Amazon's ecommerce and cloud computing business (AWS).  But the analyst recommended the company split itself to avoid regulators doing it for them.  That sounds like a recommendation for a pre-emptive strike in an effort to maintain the euphoric investor sentiment in the stock.
When we look back, the trillion-dollar valuation threshold in Amazon may have been curse.  On September 4th, it hit a trillion dollars. And that has been the dead top.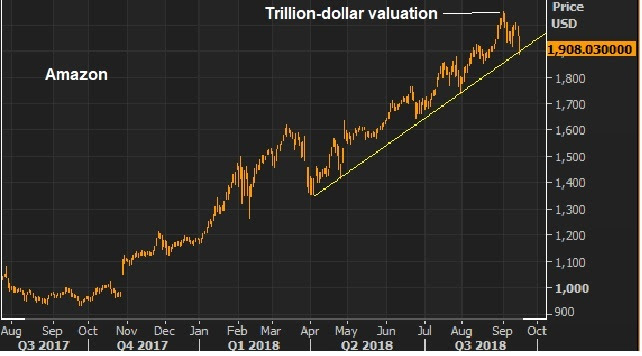 If you haven't joined the Billionaire's Portfolio, where you can look over my shoulder and follow my hand selected 20-stock portfolio of the best billionaire owned and influenced stocks, you can join me here.