Blue-chip American companies are a bargain in a world of sub-3% ten-year yields  
July 2, 5:00 pm EST
As we head in to the holiday week, markets will likely go quiet until we get Friday's jobs number.
We're now into the second half of the year.  After stocks got out to a huge start in January (up 7% in just the first 18 trading days of the year), we've since had a textbook correction of about 12%.  And we currently sit up only 1% in the S&P 500 for the year.  And the Dow is still down, -1.8%.
But we have this chart on the Dow that looks very intriguing…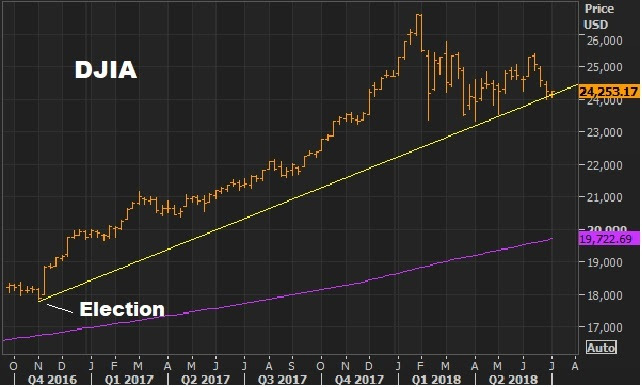 The DJIA is trading perfectly into the trendline that represents this post Trump-election rally.
Given that technical backdrop, the underperformance of the Dow relative to small caps and tech stocks, and a 16 P/E, the blue-chip American companies are a bargain in a world of sub-3% ten-year yields.
This sets up a second half, where money aggressively moves back toward the blue chips.
Remember, as we worked through the price correction in stocks for the first half, we were awaiting Q1 earnings to show the early signs of fiscal stimulus working on the economy.  We got it.  We had big positive surprises on an earnings season that was already projected to do nearly 20% earnings growth.
Now, as we enter the second half, we should start to see the positive surprises in the economic data.
If you haven't joined the 
Billionaire's Portfolio
, where you can look over my shoulder and follow my hand selected 20-stock portfolio of the best billionaire owned and influenced stocks, you can 
join me here
.