Dear Investor,
How has your mutual fund portfolio fared over the past fifteen years?
It's no secret the mainstream investment community has gotten slaughtered, while billionaire investors and hedge fund managers have gotten RICHER.
In fact, the number of billionaires in the world has more than doubled since the financial crisis of 2008.
So how do WE invest like THEM? How do WE get richer too, even in the worst economic times of our lifetimes?
Well, unfortunately we can't throw away our crappy mutual funds and buy into the big time hedge funds that are making the world's rich, richer. The harsh reality is, the average guy can't take part in the impressive investment partnerships that the rich have access to.
Why?
The SEC has placed stringent restrictions on who they allow to invest in the sophisticated strategies that keep the wealthy growing their wealth.
They say you need to be an "accredited investor" to play on this field. That often means those with a net worth of $1 million or more.
Furthermore, the billionaire investors and hedge fund managers are not typically seeking new investors. To the contrary, they are looking to reduce the number of investors. They would prefer to be running just their personal money.
Take John Paulson, for example...
When the U.S. housing market was annihilated almost no one saw it coming – or at least took action to prevent it/ or protect from it.
But there is someone that did.
Paulson's fund had a huge bet against the housing market and it paid off handsomely -- to the tune of more than $5 billion dollars between 2007 and 2010. Meanwhile general stock market investors were losing 60% of their net worth.
BREAK AWAY FROM THE HERD ... AND STAND ON THE SHOULDERS OF WALL STREET GIANTS
If someone knocked on your door today offering you a chance to have your funds managed like these elite billionaires manage their money, what would you say?
If someone told you they could bring you some of Wall Street's greatest trades, wouldn't you want to know how to get in on the act?
Well I'm knocking on your door, right now.
And here's the best part ...
You don't need to be an accredited investor ...
You don't need to be worth a million bucks ...
Nor do you need to be earning 5.7 times the average national salary ...
And, you don't need to turn your money over to anyone!
THIS ONE SIMPLE STEP IS YOUR KEY TO INVESTING LIKE A BILLIONAIRE!
Billionaire's Portfolio is the only investigative investment research service that uncovers the lucrative positions held by superstar billionaire hedge fund managers – the elite in the hedge fund industry.
These are guys that built their wealth by buying stocks that have later soared in value. And doing it time and time again.
They have track records that are unmatched in investing. And their bank accounts prove it.
For subscribers of Billionaire's Portfolio, we get to access to the same picks, taking us along for the ride ... for FREE! No million dollar net worth requirements. No hefty management and incentive fees. They do the work, we reap the benefits.
We find out WHO the smartest, historically best performing and most influential billionaire investors and hedge funds are ...
We find out WHAT they are buying - their best ideas, their highest conviction ideas ...
We TELL YOU WHAT they are buying
YOU BUY WHAT THEY BUY!
It's that simple. These funds can often end up owning as much as 60% of the company's total outstanding stock. They can't afford to be wrong.
PROFIT FROM FOLLOWING THE BEST:
We thoroughly analyze and track the performance of billionare investors and hedge fund managers, and combine extensive research into SEC filings and partnership structures, to identify golden gems in the stock market.
We will send you actionable, easy to understand insight via email at least weekly, to enable you to execute your order and participate on the WINNER'S side of the market.
Just take a look at some of the stocks we have identified:
Let' start with GGP ...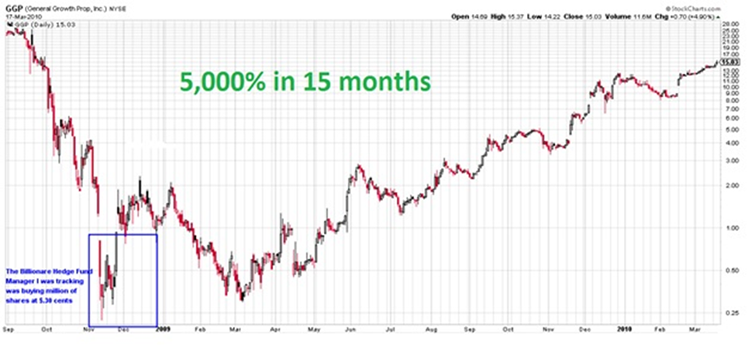 This one is of the "home run" variety. They certainly don't come like this all the time, but when they do; it's a lot of fun.
My guy was buying these shares, as the world was falling apart, at between 25 cents ... and a dollar (editor's note: the blue box in the charts represent where the funds were found acquiring the stock).
So the world is imploding, and he's pouring hundreds of millions of dollars into a penny stock – THAT GETS MY ATTENTION!
This stock went up 46-fold!
For those that might be slow doing the math, and understandably, that's $460k for every $10k invested.
That's a huge winner. And also the advantage of buying low priced stocks, which much of these guys like to do.
You get more bang for your buck.
Next, VVUS ...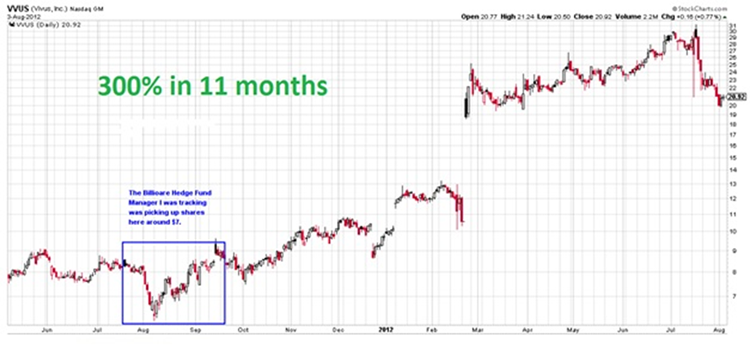 I spotted one of my favorite investors buying this bio-tech stock – he's brilliant. I found him acquiring this from 9 bucks all the way down to about 6 bucks a share. And you can see here… this one runs for about 300% over the past year.
This next example is one of the funds I follow that specializes in bio-tech companies. As we know this sector can have massive winners – VVUS was a good example of that. So here, this fund was acquiring Arena Pharma between a buck and half and $2.50. When I see a bio-tech stock like this, trading at such a low level, with one of my big hedge fund guys leading the way … that's one I definitely want to be involved in. Sure enough, shortly thereafter, one of their obesity drugs was approved, and the stock jumped nearly 600% higher.
Did they knew something?
Of course.
When you follow Billionaire Investors, you'll find very quickly that there is an unfair advantage that these guys have over the average investor. These guys have PhDs on staff that knows these drugs, and the pipeline within the FDA, better than anyone. And they have the influence to make things happen, within their time frame.
Next, let's look at Dean Foods.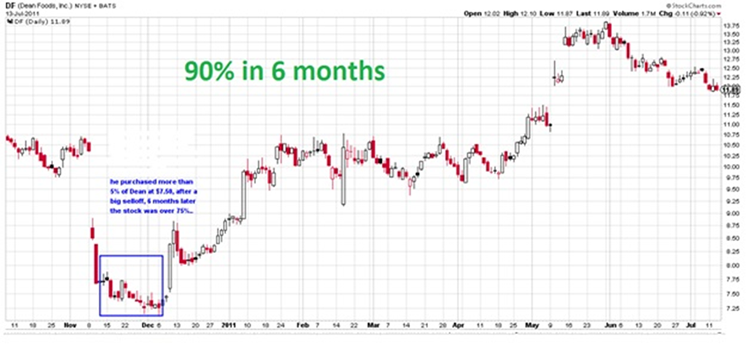 The guy involved in this stock, I have a lot of respect for. When I see him involved, I don't hesitate to pull the trigger. He was buying Dean Foods here from 8, down to 7 bucks. Six months later it was a double!
Here's another … Dollar Thrifty …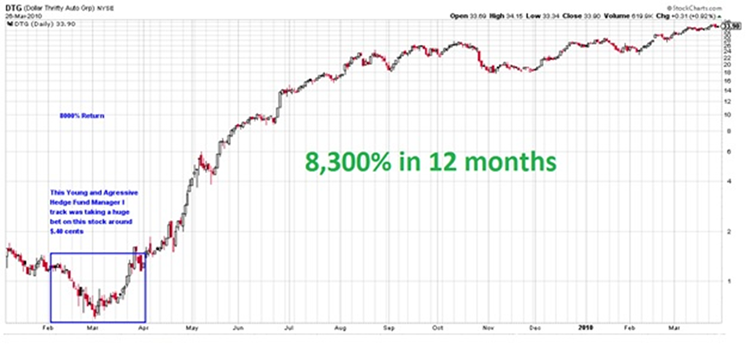 This chart really exemplifies why you want to follow billionaire hedge fund managers. Dollar Thrifty was a near bankrupt car rental company – let me restate that … this company was teetering on the edge.
He stepped in and bought millions of shares of DTG around $.35 to $.45 cents a share, taking controlling interest in the company.
Once he had control, he knew that he could impose his will on the company and turn it around. Believe it or not, this was one of those sure thing investments for him.
A year later, two different car rental companies tried to buy DTG.
This investment ended up returning nearly 8000%. The interesting thing about these opportunities is, you don't have to be a sophisticated investor to invest like one. These do all the work.
They pay all of the experts. And the average guy can get all of the benefits just by following along. To put it in perspective, this particular trade turned every $5,000 invested into $400,000.
That's a homerun indeed.
Take a look at Pulte Homes now.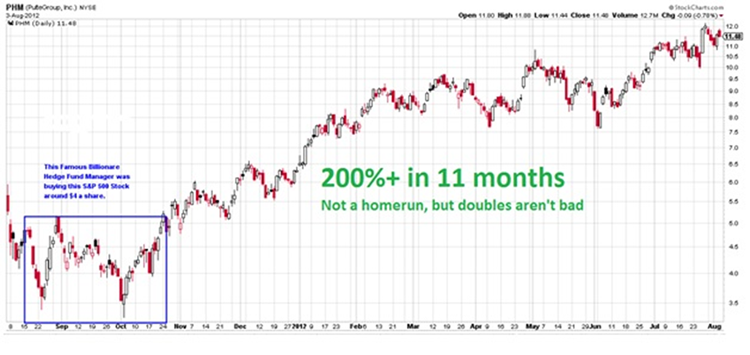 This guy has one of the greatest long term investment track records of any hedge fund manager in the business, averaging over 35% a year for the last 20 years. He's worth about $5 billion.
He became bullish on homebuilding stocks around mid 2011. His view: When betting on a rebound in housing, the best stock was the cheapest stock. He bought the one with the lowest book value, the lowest share price and (this is key) the most liquidity. That's why he chose Pulte.
Pulte is a member of the S&P 500 is was one of the few stocks in the S&P 500 index that sold below book value and under $5 a share. So he dove in, purchased millions of shares around $4.25. The stock is up 200% today.
This is another example of the way these billionaires trade. They want low priced stocks, because it gives them the opportunity to make multiples of their money invested. And you can see in many of these cases, it doesn't take long after they've built their stakes, for these stocks to start running higher.
Another? How about this stock, Western Refining …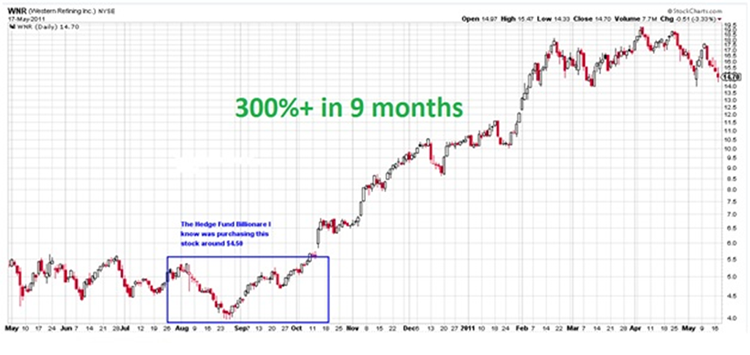 Here is example of where this manager bought this gasoline refiner below is book value and at a price below 5 bucks.
I found him buying up millions of shares of this stock at around $4.
He knew that if gasoline price recovered this stock would generate a huge return. Less than a year, the price of gasoline jumped.
The stock more than tripled.
Finally, let's take a look at AOL.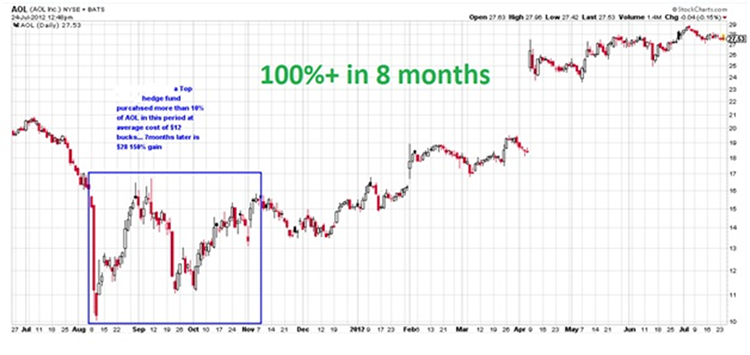 The guys involved in this play are bulldogs. They buy controlling interest and then they like to force companies to sell assets to increase shareholder value. In turn, they manufacture a return on their investment.
And that's exactly what they did with AOL.
A double in about eight months.
It just shows you this can be done with even well known, large cap stocks.
Now, I can assure you, this is just a very small sample.
The reality is this is what this type of investing is all about. It's about consistent big winners.
It's about getting a partner on your side that is hell-bent on making money – big money … and that's what these hedge funds that I follow represent.
They have to be right. They get paid when they are right.
And it all has to play out within their time frame - which is inside of a year, in most cases. After all, these funds are competing for assets, but mostly for pride ... and annual returns are everything.
So they can't sit and wait five years for an investment to work out, like a mutual fund or endowment might.
They buy stocks they know they can take control of … to unlock value, to impose their will. Their will is to make money ... a lot of it.
Now it's your turn to come along for the ride.
Sign up today for our Billionaire's Portfolio service and hear from us by email and/or text everytime one of our closely followed investors makes a move. We'll also post in our website at www.BillionairesPortfolio.com, along with updates, market analysis and our full portfolio.
In each pick we will:
Tell you specifically what to buy now.
Tell you all of the details and past performance of the billionaire investor we are following.
Highlight any other power-plays they have been involved in.
Tell you what we think are the key motivations behind the trade.
Update you on what to do with your open positions.
Provide key updates on major market themes, views and relevant news.
Everyone would like to be millionaires, but to be realistic you aren't going to get there without a plan. But there's a pretty good chance that you'll start to realize your dreams if you stand on the shoulders of some of Wall Street's finest minds and learn from what they are doing.
Why follow these billionaire investors? One word ...
PERFORMANCE!
When your mutual fund holdings were tanking, these funds were producing returns regardless of market conditions.
FIND OUT WHAT THE BEST ARE DOING AND FOLLOW THEM!
Every day powerful billionaire investors are extracting millions of dollars out of the markets. In Billionaire's Portfolio, we reveal the stocks they are buying so you can go along for the ride.
Sincerely,
Bryan Rich
Click the button below to sign up today!
Risk Warning
Billionaire's Portfolio is strictly an informational publication and does not provide individual, customized investment or trading advice to its subscribers. Although many of our analytical approaches are unique, they are based on publicly available data; and although analysts may visit specific sites, companies or countries to gain a more objective on-the-ground perspective regarding specific investment opportunities, they do not seek or accept data that?s not available to the public. The money you allocate to this service should be money you can afford to risk. While every effort is made to simulate the actual experience of subscribers, all performance figures must be considered hypothetical. References to examples of past performance are not intended to provide a total picture of position results, and past results are no guarantee of future performance.
Any opinions, news, research, analyses, prices, or other information contained on this website is provided as general market commentary, and does not constitute investment advice. FX Trader Professional or it's affiliates will not accept liability for any loss or damage, including without limitation to, any loss of profit, which may arise directly or indirectly from use of or reliance on such information.
FX Trader Professional or it's affiliates does not guarantee its accuracy, and will not accept liability for any loss or damage which may arise directly or indirectly from the content or your inability to access the website, for any delay in or failure of the transmission or the receipt of any information sent through this website.
This site is not intended for distribution, or use by, any person in any country where such distribution or use would be contrary to local law or regulation. None of the services referred to in this website are available to persons residing in any country where the provision of such services would be contrary to local law or regulation. It is the responsibility of visitors to this website to ascertain the terms of and comply with any local law or regulation to which they are subject.